Millions of twinkly lights adorn the streets of Pigeon Forge and Gatlinburg and the countdown to Christmas has officially begun! Winter in the Smokies is the most exciting time of year! Are you planning a trip to the Smokies this holiday season? Are you in search of the perfect activities filled to the brim with holiday cheer? Today, we are counting down our top 10 favorite Winterfest festivities.
Candy Christmas at Crave Golf Club
The most magical time of year has come to Crave this winter!
A Christmas celebration to reflect the joy of Christmas in the Smoky Mountains — Crave Golf Club has transformed the country's top mini-golf course into a winter wonderland! Join them when your family comes to Sevierville, Pigeon Forge, or Gatlinburg for Winterfest! Their one-of-a-kind candy-themed, interactive mini-golf course has decked the halls and everything else that they could in garland, wreaths, and more lights than Willy Wonka would have ever approved!
Come start a family tradition at Crave Golf Club. Join them for Christmas mini-golf, mini-bowling, escape rooms, candy canes, and Christmas trees galore!
Santa is coming to Crave Golf Club!
Want to meet the man himself? Santa Claus will be visiting Crave during this exciting celebration. Come take your picture with Santa for FREE on the following days:
Saturday, December 7, 2019 6pm-9pm
Saturday, December 14, 2019 6pm-9pm
Saturday, December 21, 2019 7pm-9pm
Sunday, December 22, 2019 6pm-9pm
Monday, December 23, 2019 6pm-9pm
---
Christmas at Lumberjack Square
Spend your holidays at the best new business in Pigeon Forge! Lumberjack Square offers the most thrilling show in town, tons of shops and restaurants, and a one-of-a-kind adventure park! Lumberjack Square is home to Paula Deen's Lumberjack Feud Show and Adventure Park. The show features 90-minutes of action, filled to the brim with excitement! Watch world-class lumberjack athletes compete in 13 exhilarating events! After you watch the show, test your own lumberjack abilities at Paula Deen's Lumberjack Feud Adventure Park. There, you can ride the world's first and only "Flying Ox". The Flying Ox is the first-of-its-kind zipline experience – a mixture of a roller coaster and a zipline that takes you on a thrilling ride around Lumberjack Square. You can also try Logger-Sports, the High Woodsman Challenge, and the Timber Towers!
Christmas at the Island
The Island in Pigeon Forge was named one of the best amusement parks in the nation and is one of the most affordable and fun attractions in the Smokies! The Island in Pigeon Forge offers so many ways to make some lifelong memories during Winterfest this year. Winterfest at the Island features millions of lights, 23 acres of decorations, and even photos with Santa!
Santa will be at the Island for photos on the following dates:
Saturday, December 7th, 3-8 PM
Saturday, December 14th, 3-8 PM
Friday, December 20th, 3-8 PM
Saturday, December 21st, 3-8 PM
Dollywood's Smoky Mountain Christmas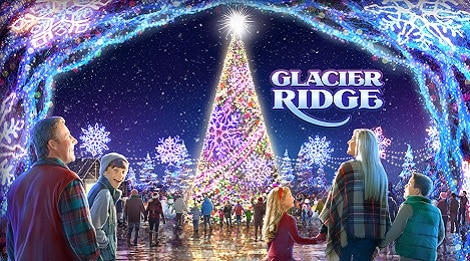 Make some Memories at Dollywood this Christmas and admire millions of lights, award-winning shows, and even a 50-foot Christmas tree! Some of the shows include Christmas in the Smokies, It's a Wonderful Life, and 'Twas the Night before Christmas. Stick around until 8:15 PM on operating days for the Parade of Many Colors! The parade includes vibrant floats, interactive characters and a number of other surprises sure to inspire guests with its heart-warming message. " The Parade of Many Colors was created by Dolly to express the values and principles that she and her family have held dear their whole lives. The parade reflects the faith, fun, and harmony which play prominently in Dolly's NBC movie Christmas of Many Colors: Circle of Love."
Christmas at Old Mill Square/ breakfast with Santa
Christmas at the Old Mill Square features one-of-a-kind Christmas shopping at Pigeon River Pottery, some of the best holiday meals at the Old Mill Farmhouse Kitchen, and breakfast with Santa! You can dine with Santa on December 7th from 8:15 AM – 11:15 AM. (Reservations are required: Call 865-406-6558 to reserve your spot now!)
Winterfest Driving Tour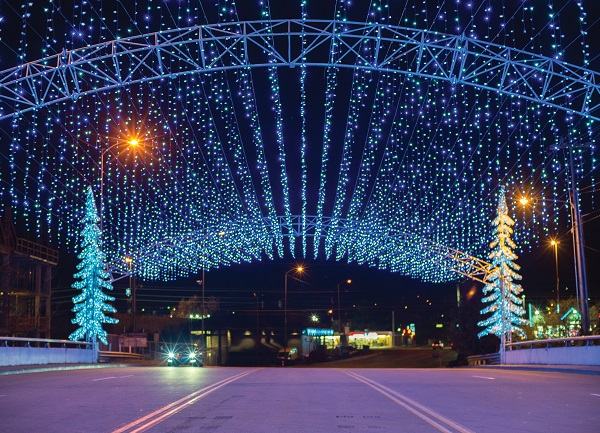 The Winterfest Driving Tour is a tradition like no other! Year after year folks from all over the world flock to Pigeon Forge for the holidays. The Winterfest Driving Tour sheds light throughout Pigeon Forge from November 15th through February 17th. See more than 5 million shining holiday lights when you take the Winterfest Driving Tour of Lights! The tour includes dozens of animals native to the Smoky Mountains like bears, deer, fox, and other critters. The tour also takes you on a journey through your favorite fairytales as well as a retelling of the 12 Days of Christmas.

You may pick up your FREE Driving Tour of Lights brochure and map at the Pigeon Forge Welcome Centers or at the Pigeon Forge Trolley Office. You can also download the Winterfest Driving Tour here.
Polar Express Train Ride
All Aboard THE POLAR EXPRESS™ Train Ride! This memorable voyage will take you on an incredible journey! Believe the magic this Holiday season! Over 90,000 people took a ride on the Polar Express in 2018! The train can be boarded at Bryson City Depot in Bryson, North Carolina. The train ride takes guests on a magical journey through the Smoky Mountains while stewards serve passengers hot chocolate and goodies while they listen to a retelling of the favorite Christmas story. This event is a little outside the standard realm of "Winterfest", but we promise it's well worth the trek!
Shadrack's Christmas Wonderland
Located at the Smokies ballpark in Sevierville, Shadrack's Christmas Wonderland features a magnificent custom-built light display that dances in perfect synchronization with festive music that plays through your radio! The show also features huge LED displays of the 12 days of Christmas! You can also check out Santa's Village during your visit. Santa's Village is FREE with admission to the light show and includes the following:
Photos and Visits with Santa. Photo packages starting at $24.99
Petting Zoo – $2 to feed and visit the animals
Pony Rides – $5
Food Vendors: Concessions, Hot Chocolate, Coffee, Fresh Kettle Corn, Tasty Treats, Glazed Nuts, etc
Inflatables for kids
Caricature Drawings
Souvenirs
New Year's Eve at the Island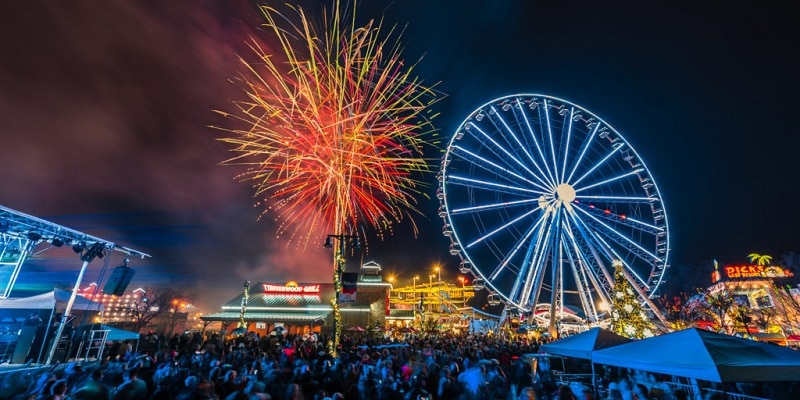 Ring in the New Year at one of the most exciting events of the year! New Year's Eve at the Island has grown year-after-year and is back BIGGER and BETTER than ever with a night filled with fun, live music, and awesome attractions!
And what's a New Year's Celebration without a midnight countdown and fireworks? Its all brought to you FREE by The Island.
The event kicks off at 10 pm so get there early to enjoy a full night of fun.
New Year's Eve in Gatlinburg
Check out the largest organized New Year's Eve event in the nation since 1987! On Tuesday, December 31, Gatlinburg will ring in the new year under the cover of the iconic Gatlinburg Space Needle for it's 33rd Annual New Year's Eve Ball Drop and Fireworks Show. The event features live music from the renowned Journey Tribute band "Departure", exciting downtown celebrations and activities, and so much more! All of these spectacular activities lead up to the midnight fireworks show and ball drop at the base of the 400-foot tall Space Needle!
We hope you enjoyed reading our picks for the top 10 things to do in in the Smokies during Winterfest. Do you agree with our picks? Shoot us an email to contact@topjump.com to leave us any feedback or to request any future blogs. Also, be sure to follow us on Instagram and Facebook to be notified when new blogs are posted.